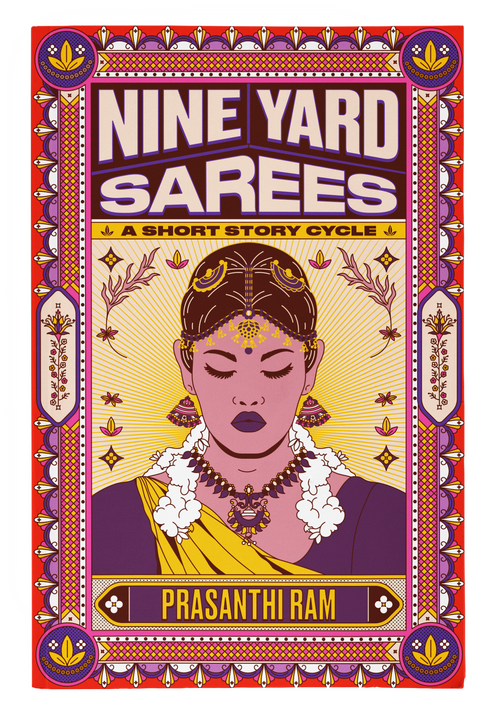 Ethos Books is an independent publisher of literary fiction, non-fiction, and poetry based in Singapore.
Giving voice to emerging and exciting writers from diverse backgrounds, we help foster an environment in which literature and the arts not only survive, but thrive. In short, we nurture the growing literary community in Singapore and throughout the region.

That's why our authors and their ideas come first. By taking a collaborative approach to publishing, we bring each author's voice and vision to fruition. We are always open to new ideas: different ways of working and fresh ways of delivering the unparalleled satisfaction only a good book can bring.

Established in Singapore in 1997, Ethos Books, an imprint of Pagesetters Services Pte Ltd, aims to create books that capture the spirit of a people and reflect the ethos of our changing times.
Featured
Nine Yard Sarees: a short story cycle
Available in paperback and e-book format. Paperback + E-book bundle available below: Get the e-book at 50% off with each purchase of a paperback.
Nine Yard Sarees is a multigenerational portrait of a fictional Tamil Brahmin family. Comprising eleven interlinked stories, this short story cycle traces the lives of nine women from 1950 all the way to 2019, shedding light on the community and its evolution through the decades. As the stories take us from India to Singapore, Australia and even America, we follow the experiences of the women in the family: Raji the matriarch who lives in seclusion at an ashram; her daughter Padma who struggles to raise her family the traditional way; Padma's daughter Keerthana who is about to be married and don the nine yard saree, a symbol of womanhood. Tender, dynamic and full of heart, this cycle is a resonant portrayal of female solidarity and the complexities of the diasporic experience in contemporary Singapore.
"There is so much to appreciate in Prasanthi Ram's debut collection, Nine Yard Sarees. As a portrait of a family, these stories connect to form a layered narrative about women, migration and identity. As a work of diaspora fiction about the Tamil-Brahmin community in Singapore, these connecting stories comment on questions of belonging and the pertinent tension between tradition and modernity. Ram writes with precision and clarity about this family while also treating the characters with the warmth and compassion that they deserve. Shifting narrative perspectives and covering a wide landscape of time and geographic space, Nine Yard Sarees confronts diaspora in all its complexity. A thoroughly enjoyable and meaningful work of fiction about family, community and the reverberations of migration and displacement."
—Balli Kaur Jaswal, Author of Erotic Stories for Punjabi Widows
"The madisar, the eponymous nine-yard saree, weaves these stories together beautifully and artfully, these stories about Tamil Brahmin women living mostly in Singapore, but also living, in Prasanthi Ram's deft, sensitive and humorous telling, in full, human complexity in their loves and hates, joys and sorrows, envies and regrets. Nine Yard Sarees is an uncommonly rich and precise debut, closely observed, magically empathetic and formally ambitious. If you love the stories of Jhumpa Lahiri and Alice Munro, you will love these stories."
—Jee Leong Koh, Winner of the 2022 Singapore Literature Prize in English fiction

"A gripping, masterfully crafted work that is both haunting and comforting. I read it in one night."
—Akshita Nanda, co-winner of the 2020 Singapore Literature Prize in English Fiction

The following stories contain some references to sensitive topics which may warrant content notices:

Agni's Trials—sexual harrassment
The Perfect Shot—sexual assault
Nine Yard Sarees—racism; fat phobic language
Loose Threads—self-harm; pregnancy loss
In Her Graveyard, She Bloomed—homophobic language; pregnancy loss
Before the Rooster Calls—domestic abuse

While the content of these stories is fictional, these topics reflect real issues. We recognise that the ways in which readers might respond to and deal with these issues may vary, as our relationships to these topics are unique. If you find yourself feeling overwhelmed or not in the right headspace to experience the stories, do put the book down and talk to someone about how you feel.

Read sample pages here. 
featured article
Ethos Books Festive Market 2023
Join us from 1 - 3 December for our annual festive market! Featuring an eclectic indie mix of 17 artists, creatives and community organisers and 6 community dialogues/events.
Read more
Attunement
Is life hustling you out of tune? As the week roars by, we invite you to a slice of attunement penned lovingly by us, our authors and friends. Freshly delivered weekly with care. Intimacy guaranteed. Read selected letters below.
Education
Whether you're a reader who is keen to dig deeper into our books, or a teacher looking to bring our authors into your classroom, Ethos Books believes in supporting and enabling knowledge-sharing, discussion and community building through literature. Check out our school programmes on this page, as well as recommended reading lists and our free book club starter packs to start your very own book club today!