Ethos Books is an independent publisher of literary fiction, non-fiction, and poetry based in Singapore.
Giving voice to emerging and exciting writers from diverse backgrounds, we help foster an environment in which literature and the arts not only survive, but thrive. In short, we nurture the growing literary community in Singapore and throughout the region.

That's why our authors and their ideas come first. By taking a collaborative approach to publishing, we bring each author's voice and vision to fruition. We are always open to new ideas: different ways of working and fresh ways of delivering the unparalleled satisfaction only a good book can bring.

Established in Singapore in 1997, Ethos Books, an imprint of Pagesetters Services Pte Ltd, aims to create books that capture the spirit of a people and reflect the ethos of our changing times.
Featured
The Singapore I Recognise: Essays on home, community and hope
Available in paperback and e-book format. Purchase the paperback and get 50% off the e-book! 



Singapore is small, a complex country full of contradictions, inconsistencies and idiosyncrasies. Often held up as a model nation, we sometimes forget that Singapore is seen differently by different people. With a decade of activism and journalism experience, Kirsten Han reveals various aspects of her home country that don't follow what many of us know as the conventional 'Singapore Story'. The Singapore I Recognise is Kirsten's reckoning with civil society's experiences of Singapore, perspectives that are often unheard, or fall through the cracks. Through researched interviews and heartfelt reflections, Kirsten tells us how parts of Singapore are already moving towards communal care, solidarity, empowerment and hope. This is a resonant portrayal of home in the island city-state.

"If you live in Singapore, you know it is a place with more layers and complexities than meets the eye. Yet, it is not always possible to grasp what lies beneath the glossy stories of economic success, social harmony, and political stability. Kirsten Han's book—part reflexive memoir, part incisive reporting—is an informative, nuanced, and deeply humane series of essays that helps us better understand and appreciate the contradictions, tensions, and power plays that are integral to the Singapore story. Read it to learn new things, read it to feel big emotions, read it to expand your thinking on the realities and possibilities of home."
—Teo You Yenn, sociologist and author of This is What Inequality Looks Like
"When Kirsten Han sees something, she says something, especially when that something is an injustice that afflicts the weak in Singapore's extremely privileged society. This book encapsulates the values she has fearlessly espoused for years, and for which she continues to pay a personal price. Unable to counter her arguments on the merits, the establishment has subjected her to smears and harassment. One day, her conscientious contributions will be lauded. Until then, Kirsten Han is the eye that too few in Singapore recognise. The country is blinder for it."
—Cherian George, Author of Air-Conditioned Nation Revisited
This book contains descriptions of physical violence, mentions of incarceration and themes related to the death penalty, as well as references to arrests and interrogation. We recognise that the ways in which readers might respond to and deal with these issues may vary, as our relationships to these topics are unique. If you find yourself feeling overwhelmed, personally affected or unable to engage with this content at present, feel free to put this book down and talk to someone about how you feel, or consult the resources printed at the back.
Read sample pages here. 

Also available at the following bookstores:
- Kinokuniya Bookstores
- Grassroots Book Room
- City Book Room
- The Book Bar
- Wormhole
- Epigram Bookshop
featured article
Ethos Books presents The Singapore I Recognise: Voices from the Ground
This is the full transcript of The Singapore I Recognise: Voices from the Ground, featuring Alfian Sa'at, Andrew Tay, Constance Singam, Corrie Tan, Edwin Thumboo, Haji Ali, Jamus Lim, Jean Seizure, Paul Tambyah, Mysara Aljaru, Meng Ee Wong, Rajkumar Thiagaras, Sharul Channa, Sng Poh Yoke, Walid J...
Read more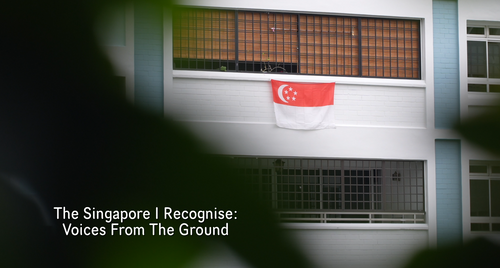 Attunement
Is life hustling you out of tune? As the week roars by, we invite you to a slice of attunement penned lovingly by us, our authors and friends. Freshly delivered weekly with care. Intimacy guaranteed. Read selected letters below.
Education
Whether you're a reader who is keen to dig deeper into our books, or a teacher looking to bring our authors into your classroom, Ethos Books believes in supporting and enabling knowledge-sharing, discussion and community building through literature. Check out our school programmes on this page, as well as recommended reading lists and our free book club starter packs to start your very own book club today!